Always Icecream
is a cute and fun educational and social website for girls ages 7-12 years old. The main part of the site is the
educational games, which cover language arts, math, geography & history, science, music & art, computer skills, foreign languages, Christian education, and life skills
. Super Girl tried it out, and one of the things she liked about it were that you earn "scoops" (their version of currency) when you play the educational games. "Scoops" can be used to buy things for the house you create for your "Mini Me" in "MiniWorld", and also to feed your virtual pet. The virtual pet was also a hit with her, as well as being able to design her own items for her house. Girls also earn virtual medals when they level-up in the games, and there are educational videos to watch, too.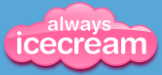 What I like about Always Icecream is that it is big on parental controls
. You can actually choose which subjects your daughter is allowed access to. For example, if you don't want your daughter using the Christian education section, you simply log into your parent account and uncheck that box. There is a section of the website where girls can interact with each other through moderated chat, and also through "social games" like watching each others pets and buying art work from each other.
The "Learning Community" is optional
, and I chose not to allow Super Girl to use that part of the site right now. I allow my children to use "safe chat" sites, where they can only choose preselected phrases, but I did not feel ready to allow more open communication with people I don't know, even if they're supposed to all be young girls and a moderator is watching. I do like that if I choose to let her use that option, the site is designed to teach her to keep herself safe online.
I have to say, though, that my most favorite part of the site is that there are ABSOLUTELY NO ADS!!!
My children do play on a few game sites, and I have never cared for the fact that one click takes them somewhere else. I don't have to worry about that on Always Icecream! Another really nice thing is the report you can view by logging in or via email which details your daughter's activity and progress on the site. You can see what games she's played, videos she's watched, things she's bought or created in MiniWorld, and (if you've enabled the community aspect) who she's been interacting with.
Always Icecream can be found at
www.always-icecream.com
. There are different pricing options, including monthly at $4.99, yearly at $29.99, and lifetime at $99.99.
There is an option of a free trial
, which looks like it is good for 12 days. I like the site enough that if my daughter had gotten really hooked while using a free trial, I would have considered getting a one-year membership as a Christmas gift for her.
**Note: I received a free lifetime membership to Always Icecream for my daughter in exchange for my review through TOS Homeschool Crew. All opinions are my own and my daughter's.