Excellence in LIterature, written by Janice Campbell, is a college-prep literature and writing curriculum with five levels. I was given the first level, Introduction to Literature, which focuses on Western literature. I had Super Girl work with this curriculum because even though she is technically in 6th grade, she reads at a higher level than that, and I thought she could handle the assignments.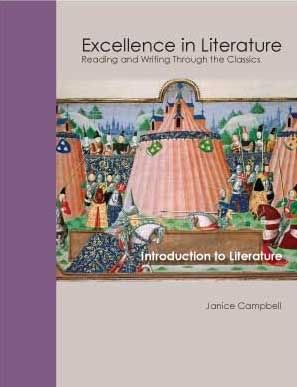 Preparing the materials for the first unit - short stories - was easy. I chose to print out the ebook I downloaded. Next was gathering the short stories. Wouldn't you know, there were handy dandy links to each of the stories online, right in the ebook! I was able to print those out, too, which I did, since they were each no longer than a few pages. I was also pleased to see that the material uses a self-guided method, which is how I tend to teach my children at this level. The one thing I did not have was the writer's manual that the material suggests, but after looking over the examples in the back of the book, I did not see the need for it during the first unit.
Super Girl was able to take the materials I handed her, read the chapters from the text and the assigned stories, and write an approach paper with very little help from me. I consider this a success, because she'd never written a paper of any type before. I think that she could definitely carry on with this curriculum with a little effort. However, I believe I will space it out over the next couple of years, and then pick it up in earnest in 8th grade. In fact, this is one of the options the author suggests in the introduction to the book. The curriculum is designed to be used from 8th to 12th grade, but I think it could easily be used by a younger student that is more advanced and needs a bit more challenge.
Excellence in Literature is sold by Everyday Education, and is available at www.everyday-education.com. They also sell other homeschool materials such as Grammar Made Easy and Spelling Made Easy. Excellence in Literature is available in either print books or ebooks, and can be purchased one level at a time ($29 print, $27 ebook), or in a bundle containing all five levels ($139 print, $135 ebook).
***Note: I received a free copy of
Introduction to Literature
in exchange for my review through TOS Homeschool Crew. All opinions are my own.