I have mentioned previously that I don't follow the classical method of homeschooling. It just doesn't seem to fit us. That said, I was intrigued when the opportunity arose to review
The Art of Argument
from
Classical Academic Press
. Mr. Man
loves
a good debate and is all about logic, and I found myself wondering if the kids and I could
learn
to
win arguments with him
hold our own in debates.
I have enjoyed reading through the lessons. They are written at a junior high level, and I found that they are a great balance of wit and instruction. The lessons are easy to read, but not "dumbed down". Words are used that a student might not know, but it is not overwhelming, and the student is encouraged to look those words up (which by junior high, a student should be in the practice of doing, anyhow). The idea of fallacies and different meanings of the word argument are introduced in a way that is easy to grasp, even for my mind, which tends to shut down at the thought of such things.
This is why I need help teaching it to my children.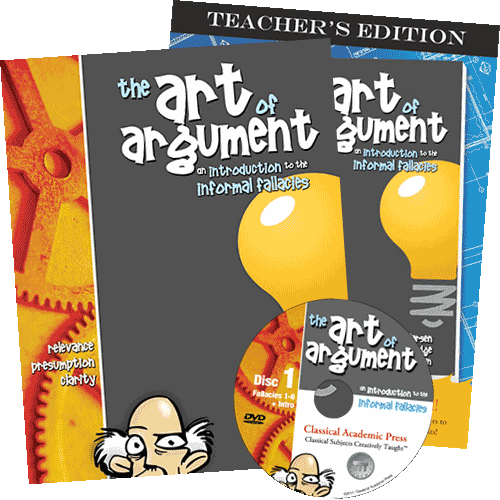 There are 28 fallacies, and somewhere around 40 lessons, if you count the introduction lessons, reviews, and tests. Depending on the student, some of the lessons could be completed in the same day. The lessons are comprised of a mix of teaching narrative, "conversations" with Socrates, and hypothetical ads. After reading through the introduction, I am thoroughly convinced of the need for my children to understand this topic, even if they don't remember the names of the fallacies later in life.
I do, however, have a nit to pick with this curriculum. While browsing the tests, I noticed a question about The Salvation Army. The statement was this: "This Christmas, leave behind the packed malls and the tinsel. There are families right in your hometown who are struggling to make ends meet. Please support them by donating to [The] Salvation Army." The student is supposed to identify this as an appeal to pity fallacy. However, the very first paragraph of the chapter on this specific fallacy reads, "When a hunger-relief organization appeals to your pity for support of people in great need of food, is that organization committing a fallacy? No. In fact, it is quite right to be moved with pity for those in need, and appealing to that pity need not be a fallacy." My brain can't make those two things go together. The correct answer to the test is that the statement about The Salvation Army is a fallacy, but it's not a fallacy to appeal to people to help the needy?
That said, it is just one tiny issue with what has so far been a very good curriculum. If you are interested in helping your child learn to make more valid arguments and to be able to identify when the wool is being pulled over their eyes, I encourage you to check out
The Art of Argument
. It is available from
Classical Academic Press
in
a set for $88.95
, which includes a student book, a teacher book, and a DVD set with discussions of the fallacies amongst a group of students and teachers. Each item is also available separately.
***Note: I received a student copy, a teacher copy, and the first DVD of The Art of Argument in exchange for my review through TOS Homeschool Crew. All opinions are my own.