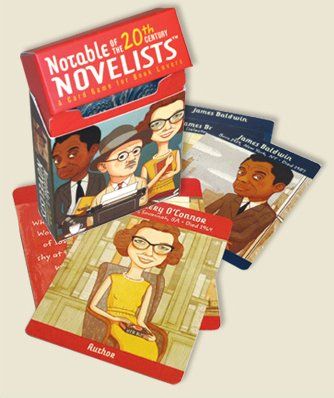 Notable Novelists is a fun and easy way to introduce your students to influential novelists of the 20th century. The set of cards is the same size as a standard playing-card deck, so it is easy to keep in a purse, back pack, or the car. The rules of the game are basically the same as "Go Fish", except you are trying to make sets of three - author card, library card, and bio card - rather than pairs. We found the illustrations to be appealing caricatures, and my children liked just browsing through the deck and reading about the different writers.
Eighteen different authors are featured. Unfortunately, many of them are ones I have not read myself, let alone introduced my children to. While I am using this game to help my children become familiar with the names of the authors and their works, it has sparked a desire in myself to at least try out some of the books listed. I know not all of them will be my cup of tea, but I am interested in seeing what made these writers the "greats" of recent times.

As I mentioned,
Notable Novelists
is easy to play - there were no frustrated participants here. We were playing the game as soon as the cards were shuffled! I think it would make an excellent game to play on the go, as the only necessary pieces are the cards, and most people will understand the rules immediately. I would recommend this game for anyone who can play "Go Fish" and read well enough to be able to say the authors names - probably age 8 and up?
If you are looking for a great travel game, a unique stocking stuffer, or a small or educational gift to keep on hand,
Notable Novelists
may be just the thing for you! It is available for $10.95. I'm tempted to get a copy for my brother and his fiancee (they both have masters in library sciences) just for fun!

***Disclaimer: I received this game in exchange for my review through the Schoolhouse Review Crew. All opinions are my own.