If your school-aged children enjoy computer games, they may enjoy Big IQ Kids. I was given access to a premium membership in order to review their site.



I honestly had a bit of trouble when I originally tried to set up my childrens accounts. My ad blocker was blocking a majority of the site, but it took me a while to realize it. Once I realized it, I was able to turn off the ad blocker and see the full site. Set up after that was fairly easy. One other thing that bugged me was having to sign in repeatedly as I moved around the site. To be honest, the graphics and teaching voices are a bit rudimentary, too.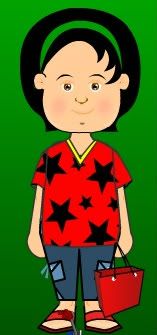 HOWEVER... that said, I really LIKE Big IQ Kids. I was able to go in and add my childrens spelling lists, and assign exercises for them to do. I was able to alter the math lessons so that they didn't have to complete so many problems at once, which is a good thing for Wonder Boy, my reluctant student. The website also emails me when one of them completes a level so that I can track their progress. I watched Wonder Boy do a lesson in the states section, and I could tell that he was learning from his time spent on the site.
Wonder Boy and Super Girl like that by completing a lesson they earn a game token, which they can then use to play educational games on the site. This had Wonder Boy doing up to 10 lessons at a time, just so he could play the games! They also liked that they could customize their own "buddy" (avitar).
The Big IQ Kids site has two membership options: free and premium. From the website:
The primary differences between the BigIQkids FREE and PREMIUM programs are the ability of the PREMIUM program to monitor the progress of the student and advance that student only when mastery of the subject matter has been achieved. Additionally, PREMIUM members have their progress tracked, saved, problem areas identified and these findings are reported via email to parents and/or teachers. The PREMIUM program offers students customized buddies, full game page access and the ability to save game coins and gaming high scores. These functions help double the fun while mastering core academic subject matter. The PREMIUM program has very LIMITED advertisement an no ads are displayed during lesson interaction.
The premium spelling and states memberships are $39.99 per year per child, and the premium math membership is $49.99 per year per child. The website is designed for children grades K-8, and I think that is pretty accurate. From the progress I've seen in Wonder Boy in a short time and the way he has enjoyed it, I feel like it would be worth it to purchase a membership for an area that he needs a bit more help in. I think it would be even better, however, if Big IQ Kids offered an all-inclusive membership, too. You can try the site out for yourself at www.bigiqkids.com.
***Note: I received two one-year premium memberships in exchange for my review through the TOS Homeschool Crew. These are my honest opinions.