A package arrived in the mail recently, containing a game called Pig Pile. It was sent to me for review from R & R Games. The box advertises it as "The hog wild card game", which was enough for my children to be chomping at the bit. A card game that involves pigs? Yes, please.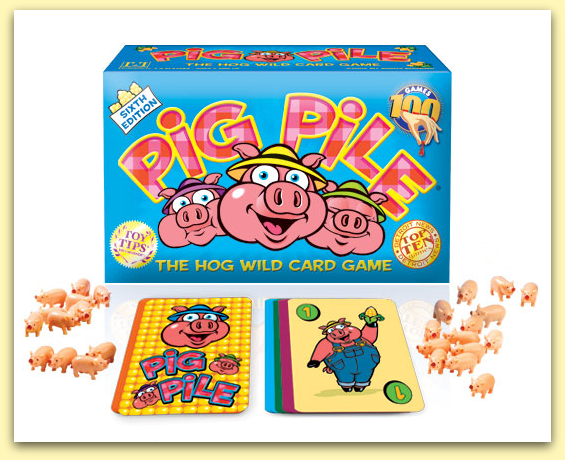 They actually played it the first time with Mr. Man - and without me. I was still hugely preggo with #5, and chose to rest instead. I didn't get much resting done because of the uproarious laughter coming from the living room while they were playing. Once they were done, they asked me to play with them next time, because they thought it would make it go easier toward the end, even though the box says it's for as few as 3 players (and as many as 6).
Flash forward to the next day, and I find myself being tutored on the rules of Pig Pile. There is a deck of 80 cards, all with cute, colorful cartoon pigs on them. The drawings of corn on them kept making me want popcorn for some pregnant reason. There are also 40 little plastic pigs. The little pigs were a bit of a disappointment for me - they don't factor into the actual card game, and are only used for keeping score. They are actually not necessary at all. The kids still got a kick out of them, though. Once I had the rules down, we played a few rounds. The cards are dealt out, and the first player to get rid of all their cards wins. I think we may have misunderstood one of the rules, as we seemed to get stuck in a sort of Pig Pile doldrums toward the end of the game. We ended up altering the rules a bit, and it seemed to work out better. The game is supposed to be for ages 7 and up, and I would suggest that, due to the slightly complex rules, that perhaps even 8 or 9 would be better if your child gets easily frustrated with games. I would definitely not suggest it for children any younger than that.
Wonder Boy just told me, "I like Pig Pile. It's fun." We all agree, and it will be staying in our game collection.
The box is nice and sturdy, which is always a plus. However, a
t a retail price of $15.95, it is fairly pricy for a card game, in my opinion.
R & R Games also produces other games that look pretty interesting to me, such as Masters of Venice and Igor - I think Wonder Boy would love that one. I think Super Girl would get a kick out of Horse Fair. All these games - and more! - can be found at www.rnrgames.com.
***Note: I received Pig Pile for free, in exchange for my review, through the TOS Homeschool Crew program. All opinions are those of myself and my family.