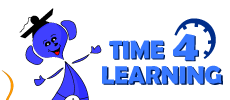 I was recently given the opportunity to review a children's website called Time 4 Learning. It is a website designed to either supplement what your child is learning in school, or it can be used as a curriculum. I had Wonder Boy try it out. He liked the colorful graphics and the expressive voices of the characters. He didn't like that there was no way to speed up parts of the lesson that seemed a little slow. He would have liked to spend more time on the site if our schedule had allowed.
What I liked about Time 4 Learning was that it engaged my son. He was completing lessons without whining. I don't like that the site requires a paid membership, which is $19.95 per month for the first child, and $14.95 per month for each additional child. This is beyond my budget, even just for one child. If I could afford it, I might consider using parts of it for my son's regular schooling. The other thing I didn't like was that I noticed it made a statement twice in one lesson about dinosaurs and people not co-existing - in a Language Arts lesson. This goes against our beliefs, but fortunately Wonder Boy is used to overlooking that kind of thing. Time 4 Learning has lessons for children ages Pre-K to 8th grade, so your child can enjoy it for years, or it can be used for multiple children at once.
Time 4 Learning can be found at www.time4learning.com. If you have a blog, you can sign up for a free 30 day trial in exchange for a review.
***Note: I received a 30 day membership to Time 4 Learning in exchange for my review through the TOS Homeschool Crew. I did not receive any other compensation, and my opinions are my own.