We recently had the chance to review an art curriculum from Artistic Pursuits. I chose to look over Junior High Book Two, as the website stated that drawing skills were covered in Book One. My children are not Rembrandts, but they have already completed another drawing course, so I chose to skip past that. I chose the junior high level because, being in 6th grade, I wanted it to last a little while for them, and not be something that was already too young.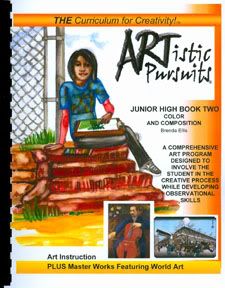 First off, I like this curriculum a lot. The book part of each lesson is short, and geared toward the student. The book I chose covers color and composition, and so gives a bit of color theory in each lesson, as well as a bit of art history or a quick biography on an artist. The lessons move quickly into the hands-on creative part, which my kids loved. They loved trying out pastels, though we had to alter the first lesson a bit - they were supposed to sit outside for an hour, observing and becoming one with nature, and then they were supposed to draw what they observed. This is not my son. Also, being December, they were not going to sit outside for an hour. We just moved, however, so they had plenty of new things to observe from the windows. Wonder Boy and Super Girl were thrilled with the drawings they created, and are eager to do more of the lessons - they've already informed me several times how much they liked it!
The one thing I didn't like about Artistic Pursuits was the cost of the additional materials. I chose to shop locally and support a small business, which may not have been the best idea for my pocket book. I spent $45, and that was just for the initial materials - for one child. My children are experiencing the joy of sharing at that price! The introduction of the book gives a convenient list of required materials, and I foresee spending at least that much more to finish out the book if I choose that route again. There is also the option to purchase the supplies from Artistic Pursuits, which is much less expensive.
Artistic Pursuits produces art curriculum for children ages preschool through high school. The books can be purchased at www.artisticpursuits.com, and are $42.95 per book. There is one book at the preschool level, three at the early elementary level, and two each at the additional levels. The packs of art materials vary based on which one you choose. Artistic Pursuits is definitely one curriculum that I'm glad to have tried, and I plan to continue using it in the future!
***Note: I received a copy of the Artistic Pursuits Junior High Book Two in exchange for my review through TOS Homeschool Crew. All opinions are my own.