I do believe that when I saw the offer to review the Medieval Machine Pack, I actually said, "OOH, ME!", out loud. Wonder Boy loves all things military, past and present, and I knew that he'd have a blast with it. I also thought it would be something that Mr. Man would enjoy doing with him. When the box came, I did a happy dance!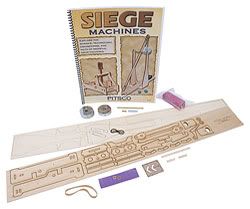 The Medieval Machines Pack includes a catapult model kit, trebuchet model kit, and a Siege Machines activity book, as well as a package of Klean Klay (sold separately) to use for projectiles. It did not include super glue, which was necessary to assemble the light-weight wooden models. Enter snaffu #1: It took Mr. Man two hours to assemble the trebuchet kit. He didn't want to let Wonder Boy help, what with the likelihood of WB having some sort of mishap with the glue. Mr. Man finished the trebuchet after WB went to bed, and left it in the living room overnight. Enter snaffu #2: In his extreme eagerness and excitement about said trebuchet, WB tried to use it on his own - and it broke the first time he fired it. Both guys were rather disappointed and frustrated. It may have partly been the glue we used, as the model actually came apart, rather than breaking. Mr. Man said that it seemed like the base needed something to weigh it down, and plans to do so once he reassembles it.
The catapult model was more successful for them. It went together in about an hour, with Mr. Man again doing the work. Wonder Boy was delighted when the catapult launched the ball of clay across the room on the first try. It was surprising how far the catapult fires, especially considering how small it is - it would fit inside a square tissue box. He carried it around the rest of the day, launching clay around the room.
We did not get to try out any of the activities in the included Siege Machines book, as we were in the middle of moving and I did not realize all the materials that would be required. However, now that we are in our new place, we look forward to exploring math and science through military weaponry!
The Medieval Machines Pack is available through Pitsco Education, and can be found at shop.pitsco.com. It retails for $21.95. Other products by Pitsco that I find interesting are the hot air balloon activities and the Homes Across America Big Book.
***Note: I received the Medieval Machines Pack in exchange for my honest review through TOS Homeschool Crew. All opinions are those of myself and my family members.