ALEKS might seriously be my absolute favorite thing I have reviewed through the Homeschool Crew so far! I can't say enough good things about a program that has my children randomly doing math in the evening, rather than playing computer games! Wonder Boy has actually asked numerous times if he can work on his math and has told me several times how fun he thinks ALEKS is, and Super Girl just does it without even asking!
How it works: After you set up an account on ALEKS, add your student(s), and choose their level, the child then logs in and completes an assessment. Upon completing the assessment, they can see a pie chart of the subjects they will work on. The wedges are shaded to various degrees, illustrating how much the child already knows. My kids love this! They choose a wedge to work on, and as they master different ideas, the wedge fills up. How many courses there are to work on and how many have been completed is also listed. One thing I really like about ALEKS is that if the program determines a child is not ready to work on a certain skill set, that wedge is not available to them until they have the prerequisite skills. I love that the program is designed so that a child is much more likely to succeed in learning a new skill, rather than being frustrated because they haven't mastered the foundations of the new skill before attempting it. I well remember how extremely frustrated I would get in school when I didn't understand something, but the class was moving on into more advanced areas anyhow.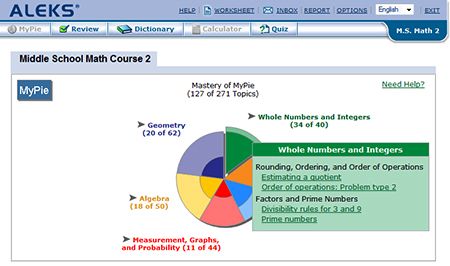 When I log into my daughter's account, I immediately see several subjects for her to review, which ALEKS thinks she has probably mastered. I am then directed to her pie, where I can see her progress. There are also tabs for a dictionary of math terms, a calculator, and quizzes. Apparently, there are games that the parent can turn on which help master math facts, but my kids are loving ALEKS without them! When I log into my parent account, I can look at each child's pie, or view a different form of progress report. I can easily see how far my child has come, and how much they have left to learn. I can also see how many topics they have learned since their assessment and how many hours they've spent in ALEKS. I can create quizzes for them, and even request for them to do a new assessment. I love that ALEKS is web-based, so my children can work on it anywhere they have access to the internet.
My least favorite things about ALEKS? The first thing would be that ALEKS is only for math. With as much as my children enjoy it, especially Wonder Boy, my reluctant learner, I would be thrilled if there were other subjects available, such as Language Arts. The second thing would be the price. For homeschoolers, ALEKS is available for $19.99 per month per child, $99.95 for six months, or $179.95 for 12 months. There are family discounts available, but a one year subscription to ALEKS would still cost my family $305.90. For as much as my son loves it, I do think it might be worth it. However, I'd think it was an even better value if other topics were available, as I said.
ALEKS is designed for children at the third grade level and higher, all the way through college-level courses. If you are interested in trying out this wonderful program for yourself, I encourage you to sign up for a free two month trial. Just click the button below to begin!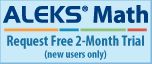 ***Note: I received a two-month free trial to ALEKS in exchange for my review through TOS Homeschool Crew. All opinions are those of myself and my children.