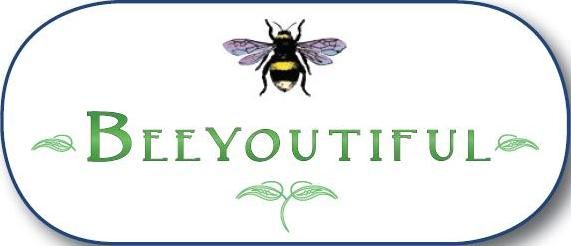 One of the companies I was looking forward to reviewing since the list for this year's Homeschool Crew reviews was posted was Beeyoutiful. I had never tried any of their products, but I have paged through one of their catalogs, and also heard wonderful things about their vitamins, especially from a lady that I greatly respect and admire. When I found out I was going to be reviewing one of Beeyoutiful's products, I was thrilled!
I received two products to try - Tummy Tuneup and a tube of their brand new B.A.L.M. lip moisturizer in orange. I didn't honestly get to spend much time with the tube of B.A.L.M. - I used it a couple of times the day it came in the mail, then it mysteriously disappeared from my jeans pocket. I have been looking for it ever since, and would welcome its return! What impressed me about B.A.L.M. was that it went on very smooth, and was not waxy or greasy feeling. It was light, yet stayed on a long time without needing to be reapplied. And, the orange flavor was great! It smelled good, and did not taste gross. Not that I was eating it, but come on - we all know that a certain amount of whatever we put on our lips ends up ingested! I felt alright about it, though, knowing that it was made from natural ingredients like grape seed oil, shea butter, beeswax, and orange essential oil. I'm still sad that my B.A.L.M. is missing - it was so young!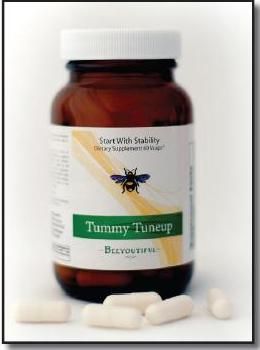 And now we come to the part of the program where we talk about Tummy Tuneup. I wish I didn't have to. It's not that I feel like it's a horrible product - I liked it a lot! I just don't want to talk about what it did for me! From the Beeyoutiful website:
Tummy Tuneup is a combination of 8 different species of beneficial bacteria designed to support gastrointestinal health and immune system function. FOS is also included in this product to assist healthy growth of acidophilus and bifidus organisms. Because this capsule is enteric coated, Tummy Tuneup delivers its microflora directly to the intestine bypassing the harsh acidic conditions of the stomach. Tummy Tuneup is stable at room temperature, requiring no refrigeration.
I find it interesting that their website says it does not need refrigeration, because my bottle clearly says that refrigeration is suggested after opening. No biggy, however, it would have made it easier to remember to take if I'd been able to load it into my pill organizer with my other supplements. Also from their website:
Tummy Tuneup users also report relief from excessive gas and bloating -- even after eating common offenders like beans and cabbage.
And, there you have it - what Tummy Tuneup did for me. No, it did not make me smell like roses. However, I did notice a significant decrease in, um, gas, and it definitely, um, smelled a lot better. There, are you happy? Here I am, trying to be more lady-like this year, and I have to talk about this subject!
These products and lots more natural health and beauty items can be found at www.beeyoutiful.com. I'm especially interested their Super Mom vitamins, Hair Shine spray-in conditioner, and their Miracle skin salve (that was what I was really hoping to get!). B.A.L.M. retails for a very affordable $3 a tube, and Tummy Tuneup is $18 for 60 capsules. One thing I really like about Beeyoutiful is that you can get a discount when you stock up and buy 3 or more of the same item. I will definitely be taking advantage of that in the future!
***Note: I received two Beeyoutiful products for the purpose of my review through TOS Homeschool Crew. All opinions are those of myself and my nose.