So, I mentioned a few days ago that I have joined Weight Watchers. I don't know if I've lost any weight yet - it's only been a week, and I am not weighing myself at home, since my scale will not be quite the same as their scale. Why drive myself crazy? Anyhow, I have really been craving raw veggies since I started it, especially salads. Healthy salads - not ones laden down with loads of creamy blue cheese dressing and piled high with bacon bits and croutons. Lettuce? It's just a vehicle for the tangy goodness of that blue cheese, right? No?
Ok, so I also mentioned that I went on a produce buying spree. However, I was passing up a lot of the stuff I'd bought, simply because I was hungry right that second and didn't want to take another 10 minutes to chop stuff up. I also had some stuff in there to make baby food for #5. My solution yesterday was to haul out all those fruits and veggies and just deal with them, rather than letting them go bad in my refrigerator.
I didn't get everything addressed before dinner-making went awry, but I did accomplish:
roasting red peppers
slicing carrots and peppers for snacking
chopping peppers, radishes, and carrots to throw in salads
roasting pears and peaches
roasting turnips, parsnips, and carrots
putting the pinto beans (which I made a week ago) into 2 cup portions and freezing them for future meals
The peaches and pears smelled heavenly (the peaches were a little over-ripe and very juicy). They're in the freezer right now, waiting for me to turn them into a chunky puree for #5. The roasted root veggies are also in the freezer, for future use. I'm thinking of maybe adding them to some mashed potatoes some time. The roasted peppers - they were recently on sale for 99 cents a piece, so I got 7 or 8 of them. Several of the Weight Watchers recipes I've been looking at called for a jar of them, so I thought - why not roast the ones I've got? I still need to peel them and all, but they're roasted!
Between other housework today, I hope to finish the rest of what I wanted to do yesterday: roasting sweet potatoes and butternut squash, chopping/slicing celery and jicama, steaming some carrots for #5, and cooking some white beans. It's so nice to be able to pull something I need out of the freezer! I'll have to roast some more fruit for a dessert some time - Super Girl was a bit disappointed to hear that it was already in the freezer!
I'm linking up here: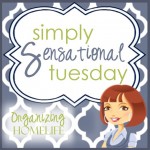 And also here:
A Bowl Full of Lemons