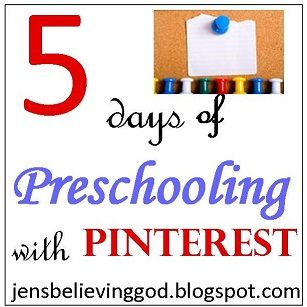 Sand/water tables are always a very popular feature at preschools and day care centers. You may be blessed to find a used institutional model for sale somewhere, or you may choose to purchase a sand/water table either new or used, such as this
Step2 Naturally Playful Sand Table**
. I don't have one, so I've been using a clear bin that I found in my garage. It is about 6" deep, and about 18" x 24". It fits really well on top of our child-sized card table, so I've been making-do for now. However, with two kiddos aged 2 and under, I think I might make an investment in the Step2 table! Anyhow, the fun thing about sand/water tables is that you don't have to use them solely with sand or water! The following are a couple of ideas I've tried:
The first thing I found on a Pinterest rabbit trail. You know, when you see a picture on a pin, but it's not what the pin actually leads to? Then you have to hunt around to find what you wanted to see? The
pin
led me to an awesome site,
Play At Home Mom LLC
. The header picture is of two little kid hands sinking into these glowing little orange balls. I
had
to know what those glowing balls were! I finally discovered that those little balls are
water beads
. They glow in the picture because
they are on a light table
(one of many other ideas on Play At Home Mom). After reading through the original water bead post, I put them on my list of things to look for at Walmart. I found them in the craft section, in the aisle with the artificial flowers. They were easy to use - they come in a little packet, and you soak them in water for several hours. I made three colors - pink, teal, and purple. I accidentally soaked the teal ones too long, and they got kinda mushy. If you squeeze a water bead, it will fall apart, especially if it was soaked too long. I poured all the water beads into my bin, and threw some toys in it that Little Miss could scoop them with. She was enthralled!!! She loves water beads, loves pouring them, loves feeling them slip around...
The second idea I tried was
colored rice
. Following that pin led me to
Share & Remember
. I followed her instructions, except I just spread it out on the table on some foil, and it was dry within minutes. I used regular food coloring, and my rice came out in vibrant primary colors. I think the next time I would try about 1/2 the amount of food coloring because it has a tendency to come off on Little Miss' hands and clothes. It washes off fine, but I didn't like having to clean her up after playing in it. I would say that of all the things I've tried so far, the rice was the biggest hit with LM. I plan to condense it in the table-top bin, but right now it lives in an under-the-bed bin with a lid. It gives her plenty of room to play in the rice with the sand toys I also put in the bin. She actually loves to climb into the bin and sit in the rice while she plays. The most important thing I learned about the rice, though, is to spread an old sheet or something under the bin while she plays - it cuts down on how much rice ends up on the floor, and any rice that falls on the sheet can be dumped back into the bin.
Other things you can put in a sand/water table for your children to play with are noodles, cotton balls, leaves or acorns, pebbles or small river rocks, pom poms (if you can get enough!), bird seed, corn meal, beans, beads, cereal, feathers, Easter grass or shredded paper, and candy (like jelly beans). Of course, some of these things would depend on the age of your child and how much you need to watch them with things like this. I usually leave one thing out for a week or so, until it seems like Little Miss is getting tired of that particular item. If you want a quiet activity for your little one, a sand/water table might be just what you're looking for!
Come back tomorrow for Day 2 - Paints!
**Note: Affiliate link