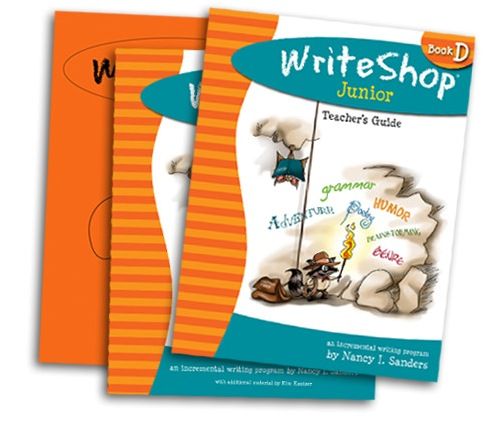 Write Shop
is an "incremental learning program" created to help your child navigate the steps of the writing process: pre-writing, brainstorming, writing, and revising. There is a Write Shop option for every level from Kindergarten to high school senior. I was given
Write Shop Junior
, which is for grades 3 and 4, but also reluctant 5th and 6th graders. Have I told you about my reluctant Wonder Boy?
The spiral-bound Teacher's Guide is wonderful. It includes a guide to help you choose which level is right for your child - handy when you feel your child is ready to move on, or if you want to introduce another child to Write Shop. There are also helpful sample schedules to aid in planning.
Each lesson is designed to take 2 to 3 weeks to complete.
I love that it is truly a guide - it walks the teacher through each part of the lesson with suggestions of activities to do to help reinforce new skills, rather than simply being a copy of the student book with answers. I guess that would be harder to do in a creative writing curriculum, anyhow, as the "answers" would be different for each student.
The student Activity Pack is actually two items in one. The left side is the student workbook, and the right side is materials for the flip books which are created for each lesson. There is also an optional Time-Saver Pack, which has pre-printed bits and pieces for the various games and activities that go along with each lesson. The creators of Write Shop are very aware that, at the Junior level, children often need some sort of hands-on activity in addition to the book work to really make the lessons stick. Hands-on activities definitely seem to appeal to students like my son. He would much rather have a video or game to play than do a worksheet any day!
The one thing regarding
Write Shop
that I think may not appeal to everyone, especially if they have children in the late elementary grades or older, is that it is not a program you can just hand to your child and have them do independently. It is meant to have teacher participation, at least at the Junior level. I do know that Wonder Boy seems to really be lagging in his writing skills, so we will be working through Write Shop Junior this summer and spending a little mother-son time together. I know our hard work will pay off, even if he'd rather zone out in front of a tv all summer!
Write Shop - all its levels - can be found at
www.writeshop.com
. The parts of the program are sold separately, and since the materials are available in both print and digital options, prices vary. And guess what - permission
is
given to copy the workbook pages (I just love it when curriculum companies are realistic like that!).

***Disclaimer: I received a set of the Write Shop Junior materials in exchange for my review through TOS Homeschool Crew. All opinions are my own.