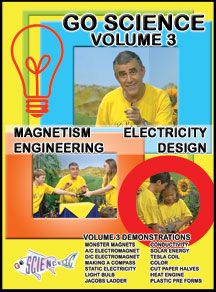 When I received a couple of volumes of
Go Science
from
Library and Educational Services
, I gave them to Wonder Boy to watch, as he loves all kinds of science-related videos. He watched some, but didn't seem to devour it like he has with others. I asked him what he thought of it, and he told me that "the guy seemed to shout a lot." When I asked him to explain more, he said it seemed that the microphone didn't always work well, so the guy was shouting. Hmm...
So, I popped in Volume 3 (the first one I received) to see what he was talking about. Right away, I noticed that the host, Ben Roy, is very enthusiastic and animated. I also noticed that the volume
did
seem quite loud. I found myself turning it down several times. Unfortunately, there were then segments that were very quiet. I believe this stems from the fact that the clips were originally taped individually as part of another show, and not all at once.
Another reason I think that Wonder Boy (age 12) was not as captivated by the
Go Science
videos is that they seem a bit simple compared to a lot of the science videos he watches. The link I am giving you states that they are for ages 6-14, however, if you have an account with
LES
you can see that they are listed for ages 5-11. I feel that the lower age range is more appropriate.
In spite of what my son thought, I found several things that I really liked about the Go Science DVDs. One of the phrases that Mr. Roy says often is, "That's
interesting
to me." You can tell that he means it, too. He really seems to love science and explaining it to kids. I also love how he takes a moment in every segment to connect the science concept to God and give the kids a bit of spiritual application. Mr. Roy's catch-phrase is, "
Every time we learn something about science, we learn something about our Creator: God!" I really appreciate the reminder to the viewer that God and science are not mutually exclusive. Although Wonder Boy may be too old for these videos, I will definitely be saving them for Little Miss and #5. I think they will really enjoy them!
Go Science is distributed by Library and Educational Services (LES), and can be found at www.libraryanded.com/goscience/. List price for the entire set of six Go Science DVDs is $79.95. If you happen to qualify for an LES account, you can purchase them for less! By the way, I've had the privilege of being able to shop in person at a couple of LES' mega sales - they're awesome! If you do qualify for an account with them, you will definitely want to sign up to get their newsletters!

***Disclaimer: I received two volumes of Go Science in exchange for my review through TOS Homeschool Crew. All opinions are those of myself and my son.